Complicating the already challenging task of innoculating a high percentage of the planet against COVID-19 is the fact that the breakthrough vaccines announced recently by Pfizer and Moderna both need to be kept at low temperatures to remain effective.
Pfizer's vaccine, produced jointly with the German biotech firm BioNTech, needs to be kept extremely cold: minus 70 degrees Celsius, which very close to the Earth's all time cold temperature record of -94.7 C. Moderna has said that its vaccine needs to be frozen too, but only at minus 20 Celsius. That's cold, but not Antarctica cold.
Global health officials and pharmaceutical industry analysts have suggested the less extreme temperature requirement may eventually give Moderna's approach an advantage in the marketplace. But during the initial, frantic stages of getting a vaccine out to people amid the full blown pandemic, Pfizer's front-running status is unlikely to be displaced. That means managing an extremely complicated refrigeration chain-of-custody. The World Health Organization (WHO) already estimates that almost half the vaccines distributed globally are spoiled by poor refrigeration. So the challenge is not incidental.
Fridge Temperature Monitoring
Happily, Internet of Things (IoT) sensors and other data-producing solutions have been expanding in the healthcare sector for about a half decade. "The industry has just expanded on a crazy level," says Michal Chojnacky, a member of the Thermodynamic Metrology Group at the US National Institute of Standards and Technology told reporters last week. "All of that has kind of been, whether we knew it or not, preparing us for this moment."
The Fridge Temperature Monitoring solution from Microshare is a complete sensing service for facilities managers looking to monitor the temperature in cold storage areas.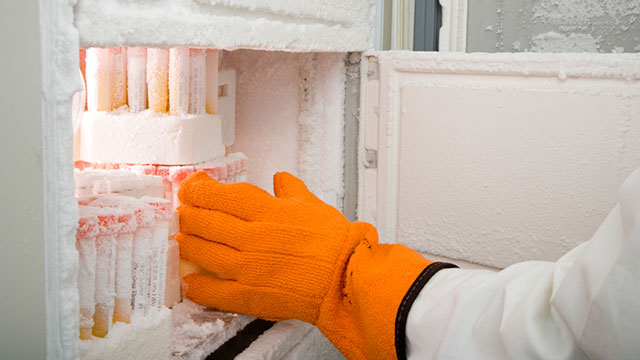 In the case of Microshare's Fridge Temperature Monitoring solution, which is deployed in hospitals and labs in the US and UK, the solution monitors and track temperature, in real-time, across your fridge and cold storage areas. The goal is to prevent spoilage of refrigerated goods and sensitive products by being alerted to changes in real-time temperature, and to provide an auditable store of data to improve compliance and energy consumption. Like everything Microshare does, the Fridge Temperature Monitoring solution is part of a full suite of Smart Building capabilities, from Universal Contact Tracing to Asset Zoning to Air Quality Monitoring.
Working with British Telecom (BT), for instance, Microshare has deployed the fridge solution at the Royal Hospital for Neuro-Disability in South London, along with sensors that monitor temperature in water tanks to prevent Legionella (Legionaire's Disease) in the hospital's water supply. Like many such solutions, this obviates the need for staff to manually check temperatures or, in the case of Asset Zoning, to waste time searching for mobile equipment like wheel chairs and IV machines.
"This technology has been extremely useful during the current pandemic as it has allowed our staff to perform more efficiently under heightened pressures," says Tony Roberts, the hospital's Chief Information Officer. "Instead of spending time filling out paper forms, they're able to do it at the click of a button."
Securing on the Cold Chain
Such solutions are a vital part of the so-called "Cold Chain," the term health professionals use to describe this supply chain-of-custody. The Cold Chain is a long-established process (described in this UN Fact Sheet), but innoculating the entire world quickly is a challenge of a new proportion. Pfizer has told media that it will be able to handle the initial stages of shipment with "specially designed, temperature-controlled thermal shippers utilizing dry ice to maintain recommended temperature conditions for up to 10 days." Jerica Pitts, a spokesperson for Pfizer, says that will get the vaccine to major air and shipping hubs in a particular region. But what then?
Once the Pfizer vaccine is defrosted (and this is true, too, of Moderna's vaccine), the clock starts ticking unless there is a freezer capable of keeping the vaccine at 70 degrees C. Within five days of the temperature going above minus 70 degrees C they will be useless. That makes it vital that the expensive freezers capable of maintaining these temperatures are working properly and consistenly. Thus, the importance of fridge temperature monitoring.
These freezers, known as "Ultra-Cold Freezers," are not unusual since many vaccines require such handling, but they're not typically available to clinics or smaller hospitals, and are even less prevelant in the developing world. They also cost over $10,000 a unit, which puts them outside the reach of many smaller clinics and hospitals. With these logistical and storage constraints. As a result, vaccines may need to be stored in regional hubs for significant periods, and people in some places may need to travel long distances to access them.
About Microshare Fridge Temperature Monitoring:
Our wireless [LoRaWAN] sensors are easily installed by non-technical teams, and are designed to function independent of existing IT networks. Our iOS/Android assistant app enables rapid deployment
The Microshare Smart Network™ powers data delivery via API to your chosen services and Microshare Business Tools™ dashboards and alerts for on-demand tracking. Deployment is quick and does not require technical staff (IT Departments). The Fridge Monitoring solution includes long-life battery-operated wireless sensors [with remote temperature probe], device connectivity, access to data and alerts that can be easily integrated into leading commercial Business Intelligence platforms.
How it Works:
Wireless sensors are deployed across facilities, using the Deploy-M mobile app [iOS/Android]
LoRaWAN gateway installed to allow data connectivity
Data delivered to client, either directly [Microshare Smart Network] or through dashboards and alerts [Microshare Business Tools]
Charles Paumelle is Chief Product Officer and Co-Founder at Microshare Inc.